Wouldn't it be nice to learn firsthand from a doctor how best to handle foot and back pain? What if you could learn what's wrong with your feet, and then have your foot problems addressed?
Thanks to Hsweetgirl™, you can enjoy the next best thing - a pair of podiatrist-designed sandals that address your specific foot problems.
SHOCK ABSORPTION AND ARCH SUPPORT
Memory soles, highly adaptive, able to move with your feet as you walk and absorbing a lot of shocks. Podiatrist-designed, biomechanical orthotic footbed with Orthaheel technology and a deep heel cup helps stabilize, support, and realign feet back to their natural position while wearing.
SERVE YOUR FEET WITH THIS DAMPING SOLE
Make you walk more steadily & stand for hours, without any strain or imbalance. Helps to relieve common causes of heel pain and knee pain, related to over-pronation and flat feet.
CRAFTED FROM HIGH-QUALITY MATERIALS
These sandals are designed to outlast many summers to come with their high-quality composition. Durable and soft artificial leather upper which can withstand years of wearing.
DESIGNED BY TEAM OF PODIATRISTS AND ORTH OPEDISTS
It corrects posture and eliminates muscle imbalances by moving angled toes back to their original positions in order to realign skeletal positioning. The material is elastic which is super comfy.
Don't let your shoes get in the way of keeping your feet happy. Grab yours NOW!
Top Foot Doc Recommends
I'll tell you why it's selling so fast we can barely make them fast enough. Right now it's at a special introductory discount at 60% OFF!
Every pair of Hsweetgirl™ Women's Orthotic Sandals gives you Incredible Health Benefits!


As the doctor suggests, to choose a pair of right shoes is essential for our health and well-being, so wearing Hsweetgirl™ Women's Orthotic Sandals that support you in all the right places can make the world of difference.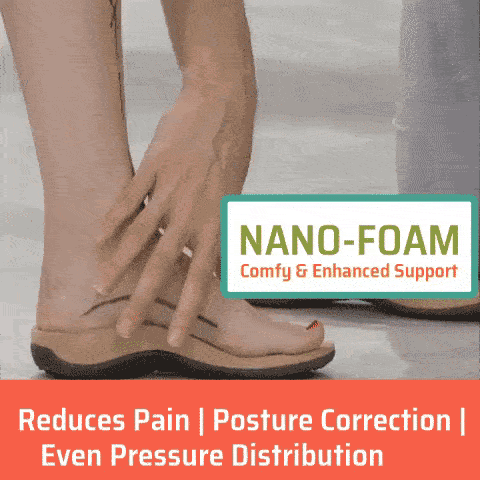 By wearing comfortable Hsweetgirl™ shoes, you make sure your whole body feels and functions well.
Here Are What People Saying:
Beautiful Sandals. When I first saw them I didn't think they were going to fit my wide feet, but they did. I love them.
These are great sandals, especially for the price. I love the look and have received many compliments on them.
These are super cute, casual sandals for kicking around this summer. I have wide feet and they fit me fine. A really excellent choice for a flat summer shoe.
"I have been using Hsweetgirl™ footwear for my patients for over 15 years, and I can attest that they offer the best solution for people with sensitive feet, including those with foot pain, diabetes and arthritis. These shoes are designed with unique ergonomic features that cannot be found in any other brand. My patients love them, and in fact I wear them myself daily, as they are the most comfortable shoes I have ever worn. " - shared by Dr. Gershman from New York